Why 5-Star Reviews Are Important
How a 5-Star Review Can Help Save You Money
The marketplace for auto sales has changed. With inventory shortages across all brands and the cost of even used cars rising, the market is more competitive than ever. Dealerships are faced with new challenges, including the inability to count on having the best offer available to entice customers. Now, more than ever, reviews are crucial in helping consumers determine where they should shop for a new car.
Of course, consumers can leave a positive review without awarding the full five stars. Why, then, is it so important for Clay Cooley Hyundai of Mesquite to get 5 star reviews on our Google Business Profile? First, a 5-star review shows that we have gone above and beyond to provide the best service and satisfaction to our customers. But in addition, believe it or not, earning 5-star reviews allows our team to pass greater savings and care on to our clients. How does that work?
Word of Mouth Sells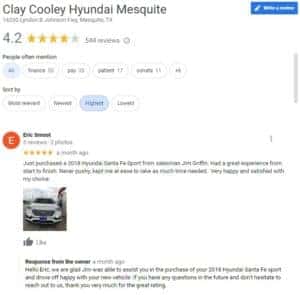 When it comes to excellence in customer service and quality treatment, word of mouth goes a long way. The average consumer is more likely to follow a recommendation than a statistic. Therefore, an anecdote providing details about the quality of service during a transaction garners more interest than any sales figure that quantifies business. So, the best way for Clay Cooley Hyundai to show that we are the best at customer service is to have reviews that express exactly what we've done right for our clients in their own words.
Competition & Profit
Because of the limited availability of vehicles, costs have risen, and it's hard to offer the same savings once prevalent on both new and used autos. Only so many discounts can be applied and still stay in business, based on making a profit. And this is true for all dealerships and all brands, including Clay Cooley Hyundai in Mesquite. So, how can we continue to offer lower prices that help seal the deal?
To do this, we have to increase the quantity of sales, and that means outperforming other dealerships in other areas, especially customer service. Consumers want to return to locations where they are treated well, and they want to visit dealerships where others express that they've had excellent experiences. A 5-star review touts the advantages of a dealership over other sellers in the area.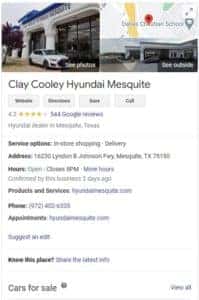 Google Business Profile (formerly Google My Business) allows consumers to share this information in a way that lets businesses with higher rankings be seen more. And great reviews also get more attention, which means more business. Being able to sell more cars based on preference leads to higher profit. It would follow, then, that achieving a goal for sales wouldn't require as high of a profit margin. That is where savings can be passed on to you as the consumer. The more business we do, the lower cost you have.
Let Us Make It Right
To be fair, much of the auto sales and service industry is driven by money, but it's also about trust. You want to buy or lease a car from a company you can trust to take care of you not just through the sales process but throughout the life of your vehicle. That's why Clay Cooley Hyundai of Mesquite offers every opportunity for complete satisfaction. We want to earn your trust and your 5-star review.
We offer the Clay Cooley Family Guarantee, with a 3-day money back guarantee, a 7-day vehicle exchange policy, and a 1-year cosmetic warranty on every single new and used vehicle we sell. This is aside from the dedication to customer service and other benefits you'll get through the offer.
And stop! If you aren't completely satisfied with our service, please don't leave a review that is less than 5 stars without first contacting us and giving us the opportunity to make it right. At Clay Cooley Hyundai, we strive to be the best in service, sales, and every area of business for consumers. If you have any doubt about posting a review that is less than 5 stars, please let us know so we can do our best to accommodate you and earn that rating.
Let Clay Cooley Hyundai of Mesquite shine, both on site and online. Give us a chance, and we'll show you why we're a 5-star dealership every time.